AIS announced FY18 results reporting a net profit of Bt29,682mn while total revenue increased 7.7% YoY driven by growth in both mobile and fixed broadband, currently covering 57 key cities. AIS announced to pay a dividend of Bt3.30/share on 18th April.
Mr. Somchai Lertsutiwong, CEO of AIS, said "Throughout 2018, telecom industry continued to be challenged by the change in technology. The crucial part is to blend the advancement of technology into business operation as well as uplift digital skill sets of all staff.
Moreover, it is important that digital infrastructure be developed and utilized to enhance the living standard of the Thai people. Overall in 2018, we had total revenue growth of 7.7% YoY resulting in our maintained leading position with around 48% revenue market share.
Data growth continued to rise from 6.7 GB/month in 2017 to 11 GB in 2018 with 4G penetration growing to 59% of total mobile subscribers.
For fixed broadband, AIS Fibre continued to add 209,300 customers or around 20% of the industry growth. As a result, AIS Fibre currently has 730,500 total customers with the readiness to serve the market with fixed-mobile convergence offerings.
Last year, AIS invested Bt20,198mn and executed a company-wide cost optimization program. Following that, a net profit was reported at Bt29,682mn, similar to 2017, and announced to pay a dividend of Bt3.30/share or approximately 70% payout ratio. The dividend payment date is 18th April.
In 2018, AIS also executed 4 strategic developments to strengthen business position and to grow sustainably.
AIS acquired the 1800MHz spectrum license from the auction in order to enhance 4G network, which resulted in AIS having the fastest network with the largest bandwidth in the industry.
With the acquisition, the combined contiguous 2x20MHz bandwidth of 1800MHz, or the "Super Block", has delivered 15-30% speed increase to all 4G users immediately.
2. AIS Fibre has expanded Fiber to the Home (FTTx) technology covering 57 key cities or 7mn households.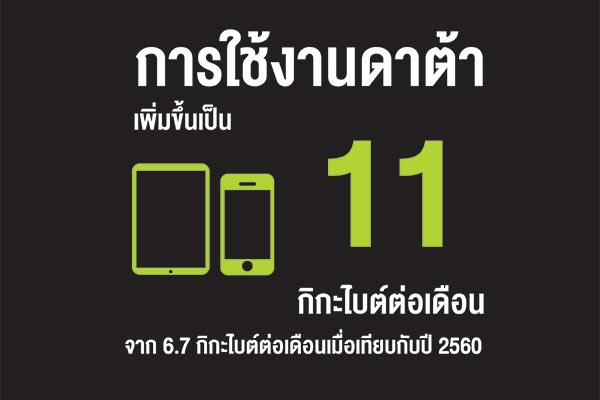 AIS has acquired CSL aiming to grow in Enterprise segment especially in providing Cloud and Managed ICT services, underpinned by the capability to provide end-to-end services.

AIS invested in Rabbit LINE Pay together with LINE and Rabbit to expand Mobile Money or e-Wallet services. This will support the country's development toward being a cashless society.
Regarding the outlook for 2019, AIS expects the revenue to grow mid-single digit driven by rising 4G consumption, a target of 1mn fixed broadband subscribers, and growth in Data Service/Cloud/Managed ICT in Enterprise business. EBITDA margin is expected to be stable from last year.
Budget for investment is set at Bt20,000-25,000mn to enhance 4G network incorporating our plan to ensure 5G-compatible architecture as well as to expand fixed broadband and digital platforms.
"AIS as the Digital Life Service Provider sees that it is important to utilize technological capabilities in creating and developing products and services for customers.
AIS will continue to foster the Ecosystem with partners to enhance the potential of Thailand. This includes the preparation for 5G which is expected to reshape business and customer's lifestyle in the next 2-3 years," said Somchai.
Related Link
Reporting by