Gen. Prayut Chan-o-cha, Prime Minister and Minister of Defence, welcomed Mr. Abel Deng, CEO, Huawei Technologies (Thailand) Co., Ltd. at the Purple Room, Thai Khu Fa Building, the Government House of Thailand, to exchange views on leveraging digital innovations and expertise as well as 5G ecosystem to support and optimize the works of the Thai government, which are aimed at improving the living quality of Thai people and to drive Thai economy and society forward in a strong and sustainable manner. Huawei also provided the Thai government with 500,000 face masks to further prevent the spread of COVID-19.
Gen. Prayut Chan-o-cha, Prime Minister and Minister of Defence, said "I would like to thank Huawei for the support provided in the cooperation to fight against the spread of COVID-19 in Thailand, including today's medical masks donation. We appreciate Huawei's commitment to Thailand in the further cooperation of communications and telecommunications, especially the building of 5G network, which the Thai government has emphasized, and we are ready to develop our country's capability to become the region's digital technology leader."
Mr. Abel Deng, CEO, Huawei Technologies (Thailand) Co., Ltd. said that "Huawei would like to extend our appreciation towards the Prime Minister and the government for supporting Thai citizens in many aspects during this time. Thailand is internationally recognized for its best practices for infection prevention and control. This has marked social harmony and fostered unity in the Thai society to overcome COVID-19.
It is our shared responsibility to support Thailand during this challenging time with the donation of face masks for further prevention of COVID-19 in the country. Recently, Huawei Technologies (Thailand) Co., Ltd. has supported the Thai government to fight against the pandemic by providing AI solution for COVID-19 diagnosis to Siriraj Hospital and Ramathibodi Hospital.
The company also delivered Huawei Telemedicine Video Conference Solution to Ministry of Public Health of Thailand. Gen. Prayut Chan-o-cha recently visited the Information Technology Center at the Department of Disease Control and Siriraj Hospital to inspect Huawei's innovative healthcare solutions.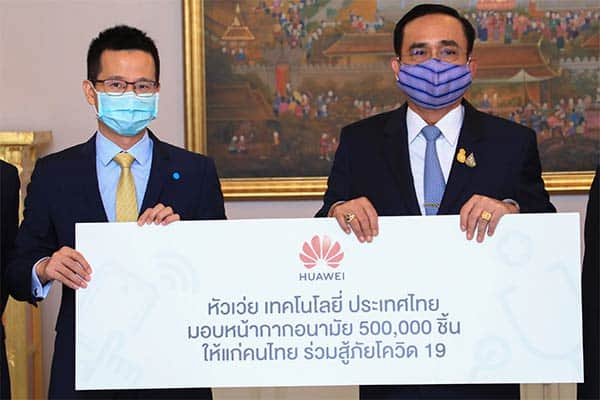 5G: Driving Force for Thai Economy
The auctions for 5G spectrum earlier this year has put Thailand at the forefront as ASEAN technology leader. The technology is the main driver of global digital transformation. As the COVID-19 pandemic passed, Huawei is confident that Thailand has the capability to be the regional digital hub. We are willing to support and collaborate with the Thai government to revive Thailand's economy and society.
It is also our commitment in capturing the full capacities of ICT innovations including 5G ecosystem, AI, Big Data, and Cloud Service in order to improve the quality of life, as well as to enhance the capabilities of both public and private sectors. The collaboration will help us accelerate the growth of Thai economy and society and overcome any challenges ahead of us."
5G Ecosystem For Fully Connected Government 4.0 Capability
On this occasion, the Prime Minister and Huawei's executives also exchanged ideas on open collaboration and implementation of world-class technology and expertise to rapidly enhance the administrative capability for sustainable economic and social recovery.
The 5G ecosystem will specially accelerate future growth by shaping the fully connected, intelligent future together in Thailand.
Furthermore, Huawei is determined to support Thailand with its digital expertise and incubate 5G ecosystem including the establishment of 5G Ecosystem Innovation Center to cultivate ICT talents in local digital industry including SMEs, startups and organizations via knowledge-sharing and skills transfer led by globally renowned experts and digital scientist from Huawei Technologies headquarters.
Reporting by