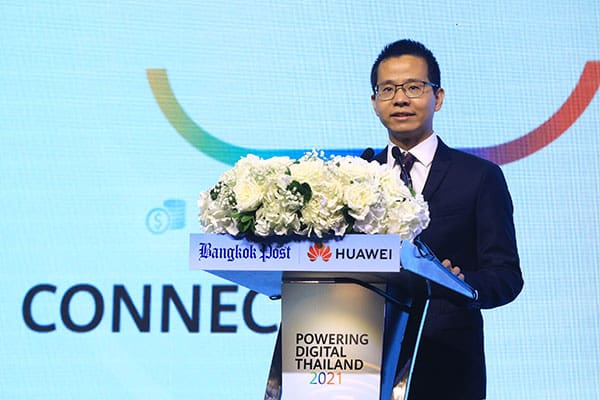 In the digital era, Cloud, 5G and AI are increasing value for different industries and digitalizing Thai's economy. These technologies are key to the development of a digital economy, which will drive Thailand's GDP, leading the country to become a Digital Hub and embrace its Thailand 4.0 potential.
The 'POWERING DIGITAL THAILAND 2021 HUAWEI CLOUD & CONNECT' conference, as the collaboration between Huawei Technologies (Thailand) and Bangkok Post Public Company Limited, with more than 50 local partners participating, will be showcasing how new technologies are being applied to unlock new potential, markets, and business models, envisioning digital 2021 for Thailand. Also, CLOUD, AI technology, and 5G network, will greatly improve innovations and operational efficiency for Thai industries.
Taking place during November 11-14, 2020, at Centara Grand at Central World, the event is targeted to welcome more than 4,500 attendees from distinguished guests from embassies, representatives of high management level from leading companies of all industries, will provide an opportunity for ideas exchanges with industry experts, exploring business opportunities with business leaders, gaining insights into the latest industry and ICT technology trends, as well as experience amazing applications and digital platforms.
The event, starting with welcoming address by Worachai Bhicharnchitr, vice-chairman and member of executive committee of the Bangkok Post and Abel Deng from Huawei, CEO, Huawei Technologies (Thailand) Co. Ltd., was joined by Thailand's Deputy Prime Minister Gen. Prawit Wongsuwan, Digital Economy and Society Minister Mr. Puttipong Punnakanta, Education Minister Mr. Nataphol Teepsuwan, Labor Minister Mr. Suchart Chomklin, who also gave a speech regarding the importance of technology in order to drive Thai economy, the cooperation between government and private sector, and the role of Huawei in pushing forward Thai ICT innovation policy to comprehensively achieve the 'Thailand 4.0' goal.
Delivered a keynote speech regarding Huawei's visions, Mr. Abel Deng, CEO, Huawei Technologies (Thailand) Co. Ltd., said, "As a technology organization that has been in Thailand for over 21 years, Huawei sees Thailand's potential and advantages over other countries in the region.
Thailand is already a forerunner in Cloud, AI, and 5G adoption which will be the major driving force to implement cloud and intelligent transformation in various industries. The readiness of infrastructure is considered to be foundations for a digital economy. Therefore, we aim to bolster Thailand to become the Digital Hub of ASEAN to achieve Thailand 4.0 strategy."
Mr. Deng added that Huawei Technologies (Thailand) has driven long-term, strategic investment in Cloud since September 2018. In the past two years, Huawei is the provider of the unique Cloud Hub in Thailand, utilizing Cloud technology to implement two consumer-centric data centers. The company will launch its third local data center in 2021. This can ensure higher efficient usage for local data storage and will bring the investment for more than THB 700 Million.
The company is confident in the potential of the country in its journey to become the first Digital Hub of ASEAN. To realize this vision, Huawei aims to drive Thailand's digital economy, which are expected to contribute 30% of the country's GDP in 2030, through excellence in four core areas including:
Connectivity Excellence Hub: Support Thailand to be the center of connectivity including 5G and highly ultra-broadband
Cloud Excellence Hub: With the excellence for Cloud digital platform and local data centers
Digital ecosystem Excellence: Support EEC with 5G industrial clusters together with an innovation center such as 5G EIC and high competency local system integrator
Digital Talent Hub: Increasing, upskilling and reskilling workforce in Thailand including cultivating ICT talents
Mr. Worachai Bhicharnchitr, vice-chairman and member of executive committee of the Bangkok Post, shared his thought on how digital technology effects Thai economic development that, "Thailand's economy is improving strongly since the initial impact of COVID-19. Further, Huawei's leading technologies are helping accelerate the country's recovery during these challenging times.
In the long term, the development of a robust ICT infrastructure that includes CLOUD, AI and 5G will help enhance Thailand's competitiveness and drive its economy, society, security, and education. This development and investment is an important factor in supporting Thailand's ability to compete at a global level."
Mr. Abel Deng also shared on important technology trends in Thailand, where both government and private sector need to pay attention in 2021. These include cloud computing, AI, and 5G network, as these technologies will contribute to drive innovation across thousands of industries and will be important tools in building intelligent work process for government entity, private sector, and social sector, to better understand and support the needs of targeted consumer.
The CLOUD, computing technologies, and connectivity are crucial factors for strengthening the country's digital economy, which could have a direct effect on a country's GDP. Huawei expects that a 20% increase of domestic investment in ICT sector will drive the country's GDP to increase by at least 1%.
"HUAWEI is committed to driving the diversity of computing architectures through continuous innovation in order to offer solutions for businesses in the current situation. HUAWEI will make cloud ubiquitous and building all-scenario intelligence. And HUAWEI CLOUD AI helps industry intelligent upgrades in three scenarios: simple repetition, expert experience, and multi-domain collaboration," Abel added.
The 'POWERING DIGITAL THAILAND 2021 HUAWEI CLOUD & CONNECT' event will jointly explore the possibility on how technology can build new business opportunities and to provide cloud service for all-scenario intelligent experience, which can empower Thailand in the digital era.
During the event, Huawei with its values partners also host exhibitions on cloud, 5G, and AI technologies, to showcase how these innovations can add value across various industries and enhance Thai digital economy. The exhibitions will also feature various sessions for different industries, Hands on Labs and contest. Highlights cover technological and innovation trends as below:
Redefine Infrastructure: The Exhibition zone will present updates in HUAWEI CLOUD, Computing, Data Storage, Intelligent Collaboration, IP Networks, Digital Power, Data Center, OptiX Network.
Industry Digital Transformation: The industries that we are exhibiting include Smart Transportation, Smart Campus, Finance, Retail, Internet, Healthcare, and Education.
AI Experience: Showcase on how AI application can assist the real economy, to brings AI to each person, home, and organization to build a fully connected, intelligent world.
Partner Exhibition: More than 50 ecosystem partners from various industries, including True IDC, Metro Systems Corporation, Thai Blockchain Management and Happy Ventures., will also showcase their innovative solutions (smart retail, smart finance, smart health), sharing their insight and experience about digitalization.
HUAWEI CLOUD Developer Contest: A competition for developers in Thailand which aims to encourage developers to use HUAWEI CLOUD open capabilities and abundant services to create more high-value applications and solutions for the Thai Enterprises and Society.
Hands-on Lab: An experience zone for customers, partners, and any interested audiences to explore HUAWEI CLOUD's service and utility. Also, a chance to receive an advice and recommendation regarding Huawei solution architecture from the expert.
Reporting by