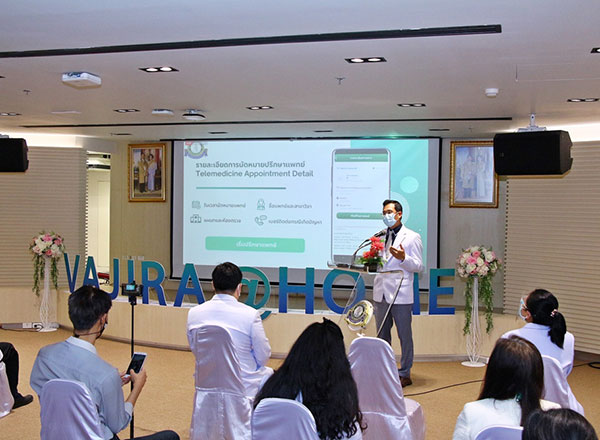 The current pandemic and increasing cases of COVID-19 infections has made it challenging for patients with other health conditions to visit hospitals for their routine doctor's appointments. To reduce the risk of infection from traveling to the hospitals for these patients, the Faculty of Medicine Vajira Hospital, Navamindradhiraj University collaborated with various agencies to launch the "Vajira @ Home" application, "Far but Near, From Hospital to Your Home". This innovative app enables patients to attend their doctor's appointment, bringing them closer to hospital through service innovation, making life more convenient and improving the quality of life for all patients.
At the launch ceremony of the [email protected] app held on 7 July, Asst. Prof. Dr. Jakrawut Maneerit, the Dean of the Faculty of Medicine Vajira Hospital and spokesperson for the launch shared about the concept and objectives of the Vajira @ Home app. He shared that many patients are worried about going for their medical appointments at the hospitals because they fear coming into contact with patients infected with COVID. As a result, Vajira Hospital created a new platform to provide clinical services remotely or telemedicine through an application which allows doctors to deliver health care to patients from a distance using electronic communications and digital technology.
The application was funded by the Digital Economy and Society Development Fund and supported by partners including Ever Medical Technologies Company Limited, Thaivivat Insurance Public Company Limited, and biotechnology company Amgen (Thailand) Limited.The design of the application is patient-centric, connecting Vajira Hospital's medical services to patients with non-communicable diseases (NCDs) such as diabetes, cardiovascular disease and osteoporosis etc. Through the app, patients can schedule pre- and post-operative care, physiotheraphy, make appointments with Vajira Hospital's specialists, consult, receive diagnosis, request an ambulance, and schedule service at home such as having an osteoporosis home injection.
 In addition, the application provides patients with access to their appointment information, medical records, and health service queue information as well as ability to send their blood glucose and blood pressure information. The application also notifies patients of upcoming appointments, allowing doctors to follow up on patients' symptoms, and reminds them to take their medication.
Certain data can be recorded and linked to a smart watch or a digital blood glucose monitor, aiding patients to call for an emergency medical service when needed. Other functions include scheduling home delivery of medication, chatbot service, patient's location identification through GPS for emergency medical service (ambulance), and electronic authentication.
The features of "Vajira @ Home" application, "Far but Near, From Hospital to Your Home" aim to provide patients with convenience, better quality of life, and safety through standardized and all-round medical services as well as health network across Bangkok and nearby provinces, creating a truly all-in-one application.
Asst. Prof. Dr. Jakrawut Maneerit added that the hospital has already promoted the app among its patients. When patients are waiting at the pharmacy or to see a doctor, the hospital will recommend patients to download the app on their mobile phones. Initially, the hospital hopes to see about 10 percent of patients (3,000 patients/day) downloading the app in the first year.
Assoc. Prof. Dr. Sawangjit Suraamornkul, Assistant Dean of the Faculty of Medicine Vajira Hospital said that downloading the Vajira @ Home application to mobile phones will benefit both patients and doctors. Patients are only required to sign up and authenticate. The hospital will then verify the information. Once the patient is approved, the patient will be able to access all the functions of the app. Patients can share their medical records with other doctors if they have to see doctors at several hospitals.
Assoc. Prof. Dr. Mason Poramatikul, Assistant Dean of the Faculty of Medicine Vajira Hospital noted that apart from the application's special features, the hospital has collaborated with Amgen (Thailand) Limited to create a project to provide osteoporosis injections for patients at home, the first in Southeast Asia. The home injections allow patients, especially elderly patients who find it difficult to come for an injection at the hospital, to continue to receive their treatments.
Asst. Prof. Dr. Anusang Chitsomkasem, Associate Dean of the Faculty of Medicine Vajira Hospital said that application is the first application in Thailand that brings Block chain, mostly applied with Fin Tech, to Health Tech. As a result, the collaboration has brought to a system an advanced security for data protection in compliance with PDPA law which is expected to take effect in Thailand next year.
Reporting by