Amidst the challenges of the current situation, AIS continues to leverage the potential of 5G technology according to its core plan, to enhance industrial efficiency. The company is focussed on regenerating Thai manufacturing with modern solutions to be the equal of other advanced nations. AIS has now signed an MoU with Mitsubishi Electric Factory Automation (Thailand) Co Ltd and TKK Corporation Co Ltd to completely transform the face of the Thai industrial sector. Total Industrial Solutions are now deployed as real use cases in every category of industrial factory, all powered by AIS 5G.
Tanapong Ittisakulchai, Chief Enterprise Business Officer, AIS, noted, "The key to expanding the power of 5G to the industrial sector, apart from our world-class networks, is transformative partnerships with the potential to unlock this new world, and AIS will continue to follow this model.
"In particular, a cooperation with Mitsubishi Electric Factory Automation, a partner in Smart Manufacturing solutions, has been applied with 5G networks in the factory of SNC Former Public Company Limited since the start of last year.
"Today is another step in deploying prototypes we have recently developed into real use cases through this cooperation with Mitsubishi Electric Factory Automation, a production line technology powerhouse in Thailand, and TKK Corporation, a leading vendor and operator of automated industrial control systems. Together we are offering [email protected] Solutions, which are now ready to upgrade factories to Smart Manufacturing in real use cases on the AIS 5G network. The concept will completely transform manufacturing efficiency in terms of enhancing quality and cutting manufacturing costs. It will be responsive to production needs through a Private Network. It also strengthens data security and network speeds, and reduces latency to fully support IoT systems."
This collaboration levels up industrial capabilities on the strongest 5G Network in Thailand, in combination with Mitsubishi Electric's leadership of factory automation and TKK's expertise in the distribution and operation of automated manufacturing control systems. Besides basic Factory automation solutions, these solutions meet different working needs and are appropriate to the COVID-19 situation as remote working gains in importance. These require 5G networks with power and stability such as:
Remote Monitoring – Managers, team leaders and machinery supervisors can instantly check the status of production, machinery and efficiency from anywhere, enabling a clear overall picture of production management, and any issues which require attention.

Remote Maintenance – Reducing factory visits with repairs or troubleshooting which can be done from home, cutting the costs of production line downtime.

Remote Development – Making management more efficient by coordination with different departments inside the factory, enabling continuity from anywhere and boosting the efficiency of cross-functional cooperation.

Remote Service – A service of instant long-distance consultation by Mobile network with the engineers of Mitsubishi and their partners, enabling problems to be quickly addressed from remote locations.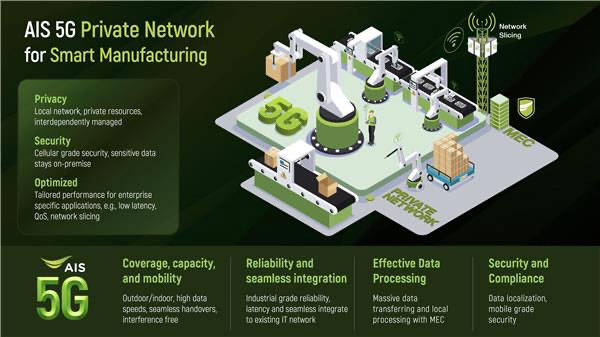 Wichiene Ngamsukkarsemsri, Managing Director, Mitsubishi Electric Factory Automation (Thailand) Co Ltd explained further, "Thailand has traditionally been a significant global manufacturing base. Now is the time to implement new solutions to maintain this position. At Mitsubishi Electric this has always been our top priority, and we have deployed over 10,000 real use case solutions around the world which we call [email protected] This collaboration has brought these solutions to fruition in Thailand, meeting the needs of the Thai industrial sector, and connecting data at every level with IoT devices. Operations benefit in every way, whether from reduced costs, increased efficiency or built-in support for future manufacturing processes."
Kanlayanee Kongsomjit, Founder and President, TKK Corporation Co Ltd added, "Our expertise from leadership of industrial automation products and factory control systems, with long experience in industry, combined with AIS and Mitsubishi Electric's contributions, make us confident that we can deliver efficient solutions to the industrial sector. With our partners, we have the joint objective to upgrade the Thai industrial sector to the next level by implementing the latest technology which meets real needs."
Tanapong concluded, "We and our partners are dedicated to End-to-End cooperation in developing industrial solutions. This underlines our intention to maintain Thailand's position as an key international manufacturing base and improving efficiency with outstanding technology, systems and smart networks. It is not just prototype development. Today we are ready to transform and revolutionize the Thai industrial sector to have capabilities which are the equal of leading manufacturing facilities around the world, with real use cases of solutions, products and services."
Manufacturers can find more details of the services available at https://business.ais.co.th/
Reporting by