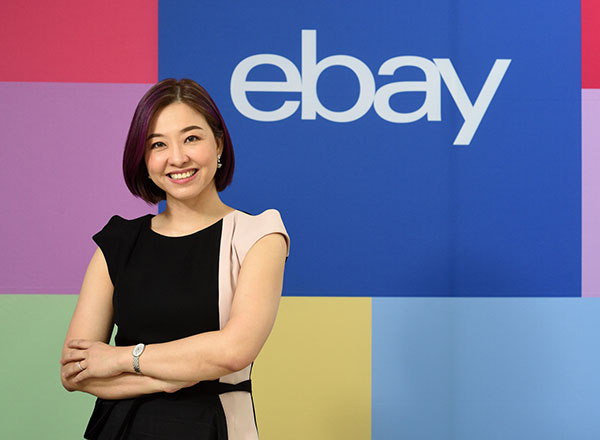 eBay, a leader in global e-commerce, today announced that it is expanding the opportunity for Thai SMEs to sell high-demand trending products in global markets with the launch of the "eBay NextGen" project. It offers privileges and benefits for Thai SMEs to become a new seller on eBay.com in a faster and more convenient way. They will receive the right to sell their products in high-price, best-selling categories immediately without having to accumulate feedback scores, along with a higher selling limit so they can sell more, plus other benefits. eBay aims to help Thai traders to succeed in the growing global market by responding to their needs in the COVID-19 era.
Ms. Rinlita Srirojpinyo, Head of Marketing, eBay Thailand, said, "As the pandemic keeps more people in their homes, shopping online is becoming increasingly appealing to global consumers, which has been driving the exponential growth of the global e-commerce market.  In the second quarter of 2021, eBay had more than 159 million buyers worldwide, over 19million sellers with listings of more than 1,500 million items, and gross merchandise volume of over USD 22.1 billion, or approximately 730,000 million Thai Baht. We have also seen demand surge in unique categories on eBay.  Over the past year, one of the most popular and high-valued items on eBay worldwide was trading cards for sports, games, and Pokémon.  In 2020, there were more than 45 million trading cards sold on eBay, with a high sell-out rate of more than 90 items within one minute.  Other trending products include motors, video game equipment, sneakers, and luxury collectibles."
"Thai sellers have been active in selling to the global market via eBay, and we see the opportunity for more Thai sellers to start their eBay businesses and sell in-demand products.  The three best-selling categories from Thailand of all time on eBay are: 1) Jewelry, gemstones, and watches; 2) Auto parts and accessories; and 3) Health and beauty products. When we drill deeper, in 2021, we are seeing a rapid rise in demand for these Top 5 most popular items from Thailand:
1) Motorcycle parts; 2) Fine jewelry; 3) Loose diamonds; 4) Hair care & styling; and 5) Decorative plants. Gross merchandise volume for each of these Top 5 items is growing faster than 30% year-on-year.  All are in high demand in the United States, United Kingdom, and Australia markets.  The launch of the 'eBay NextGen' Project will allow people who are new to eBay to apply and get special privileges and benefits when they join to help their business to succeed in global markets that show continuous growth," added Ms. Rinlita.
The eBay NextGen project was established especially for new sellers. It provides Thai SMEs that have never traded on eBay the opportunity to expand their business onto the eBay platform to reach more than 159 million buyers worldwide easier, faster, and more efficiently. As new sellers, they will enjoy exclusive privileges and benefits along with know-how that will guide them from the moment they open their account until they sell their first item on eBay. Those with a commercial registration will also be eligible for additional privileges including:
Immediate approval to sell items in high-price, best-seller categories. When they join through the eBay NextGen project, they are immediately allowed to sell their items in the categories of auto parts (eBay Motors), machinery parts (Business & Industrial), jewelry, gemstones & watches, and high-priced trading cards.
Receive an additional selling limit that immediately allows them to sell high-priced items such as trading cards, auto parts, and diamond jewelry.
No eBay store subscription fees, with eBay supporting their eBay Store with no fees for three months when sellers are eligible.
Free advertising fees, with eBay subsidizing 50% of fees for businesses to use Promoted Listings to advertise their products for up to USD 1,000 for eligible sellers.
A Business Development Manager backed by a team of eBay consultants for peace of mind when starting an online business and help to grow steadily with eBay.
Advice on using overseas warehouses to increase efficiency in selling bulky, heavy-weight, or high-velocity products and keeping up with increasing customer demands.
Trading Assistant service to help list products for sellers with a large number of SKUs.
Free API Program training course to boost sellers' ability to manage multi-accounts by making it easy to use the API program.
Opportunity to get additional benefits from eBay Southeast Asia.
Interested business owners can apply to join the eBay NextGen project, which is open to operators of all sizes in all industry sectors including manufacturers, dealers, and retailers with both online stores and corporate offline stores, as long as they have never traded on eBay. Apply for the project or get more details at ebaythailand.co.th/eBayNextGen from 25 August 2021 until the end of November 2021. 
"We remain focused on accelerating our product innovation with the power of next-gen technology to enhance the buying and selling experience on eBay. The company also continues to scale our eBay Managed Payment: eBay MP globally to provide buyers with more ways to pay and sellers with one place to sell and get paid. At the end of Q2/2021, over 13 million sellers have already migrated to eBay MP, including most Thai sellers, and more than 80% of global on-platform volume was processed through eBay MP. The adoption of eBay MP is contributing to a lower rate of unpaid items for sellers, with 99% of fixed-price transactions paid up front," added Ms. Rinlita.
Learn more about the eBay NextGen project at ebaythailand.co.th/eBayNextGen
Details about eBay Managed Payment for Thai sellers can be found at ebaythailand.co.th/ebay-mp-fees/
Reporting by