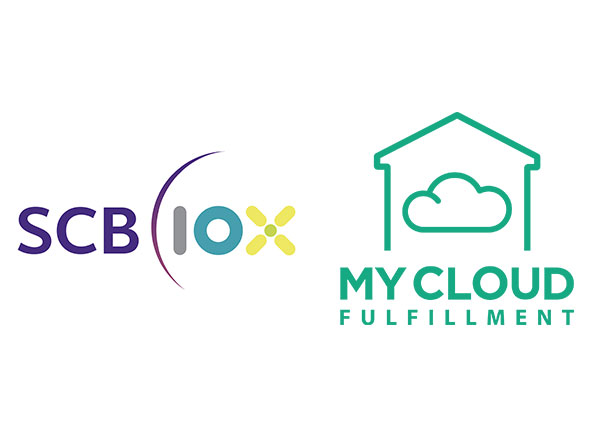 SCB Group's technology holding company SCB 10X continues investing in tech companies and startups worldwide, demonstrating its commitment towards innovation and exponential growth. Recently the Company announced its participation in the series B fundraising round of MyCloudFulfillment, a leading Thai one-stop e-commerce fulfillment solution startup. The series B round is led by JWD, a regional logistics and supply chain group. The move reaffirms SCB 10X's commitment to laying a solid technology ecosystem foundation for Thailand, promoting high potential Thai startups to compete and grow its foothold regionally.
"According to SCB 10X Chief Venture and Investment Officer, Mukaya (Tai) Panich, "SCB 10X is excited to announce our participation in the series B fundraise of MyCloudFulfillment, led by JWD.  We are proud to be an investor in MyCloudFulfillment since series A, and continue our support in series B. COVID-19 has accelerated the adoption towards digital lifestyle by consumers and digital transformation by corporates.
In the past 2 years, we have seen the rapid rise of social commerce and e-commerce in Southeast Asia, as more people go online.  Startups that enable social commerce and e-commerce like fulfillment and logistics firms will continue to greatly benefit.  MyCloudFulfillment, a seamless one-stop fulfillment provider, offering inventory storage, order packaging, and last mile delivery to e-commerce, social commerce and omnichannel businesses, is a key critical enabler of today's social commerce and e-commerce trends. As a payment partner of MyCloudFulfilment, we are looking forward to continue to work closely together."
MyCloudFulfillment CEO and Co-founder Nithi Satchatippavarn added, "As a one-stop supply chain management solution for e-commerce, MyCloudFulfillment best suits omni-channel stores. We connect multiple sales channels such as marketplaces, CMS websites, live commerce, and others.  In addition to API connectivity, our system also includes features to help automate sales, such as bundled arrangements, promotion management, and other features.
Our services can also be tailored to the needs and characteristics of each store. Apart from that, our warehouse is flexible to accommodate highly volatile orders. However, the Company's goal doesn't stop at warehousing services. Our ultimate goal is to serve as an important enabler for online businesses. From the beginning, we've always believed that in everything we do we want to enable online businesses manage their stores efficiently so that they can achieve sustainable growth. Today we are enabling our customers with warehouse management.
However, what we are keen to do next is to enable to reduce their costs for dormant stocks and increase sales opportunities. We will be able to do so by turning merchant databases into data analytics. One of the tasks that our development team plans to implement next year is to embrace machine learning to create inventory intelligence, starting from collecting in-depth consumer data and stock movement behavior for each store. This analytics process will transform that data into strategic information useful for decision making, allowing sellers to adjust stocks based on demand, identify unprofitable and profitable products, and implement suitable sales models for particular products."
MyCloudFulfillment reported its highest growth so far during the first half of this year, with 300,000 orders received per month, more than triple the growth reported over the same period last year. Through collaboration with the JWD Group its warehouses have expanded from two original locations at Lat Krabang and Rangsit with a total area of ​​over 10,000 square meters to a new third warehouse in Minburi with a total area of over 6,500 square meters. The new warehouse will have the capacity to accommodate up to 30,000 orders per day. MyCloudfulfillment is proud to have received many awards from various institutions, such as the National Innovation Award 2021 in the category of Outstanding Innovative Organization given to medium-sized private enterprises, the Bai Po Business Awards by Sasin, and we were also one of two homegrown startups selected as this year's Forbes Asia 100 To Watch.
"Apart from financial support in this fundraising round, we are hoping to bring SCB's financial products to increase convenience for our customers, such as the PayZave system to boost liquidity for both buyers and sellers or connecting QR payment to live streaming commerce, the live sale of goods, or connecting stock management with SCB affiliates such as Robinhood.  MyCloudFulfillment's logistics partners like JWD will boost its capability to increase customer numbers, build more warehouses and expand services spanning many industries. We are very confident that support from SCB 10X and JWD will promote MyCloudFulifllment's stable growth and expansion in the ASEAN region," added Nithi Satchatippavarn.
Reporting by