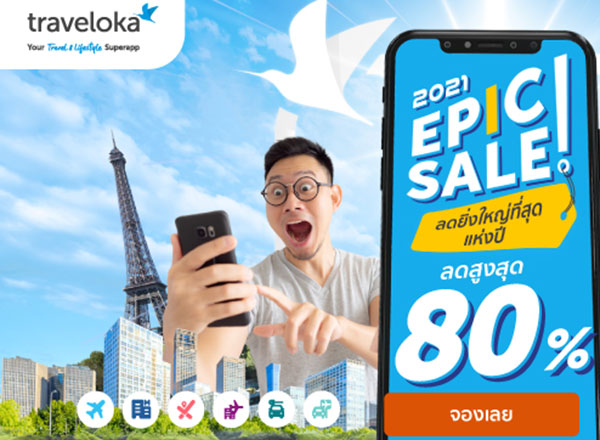 Traveloka, Southeast Asia's travel and lifestyle superapp with over 60 million downloads, launched 'EPIC Sale 2021', the company's iconic promotional campaign offering customers the best deals. Taking place from 5th to 11th November 2021, Traveloka unveils special deals of up to 80% for a wide variety of Transportation, Accommodation and Xperience products with more than 1,800 Traveloka's partners participating in this signature campaign.
Traveloka Thailand Country Manager, Panicha Thananaken said that the pandemic has changed the way people interact and go about their lives, and this includes fulfilling their travel and lifestyle aspirations. "As a travel and lifestyle superapp, we continuously look at the shifting industry landscape in order to provide relevant products and initiatives, not only for our customers but also to partners and other stakeholders. EPIC Sale is one of the manifestations of our commitment to cater to the customers' needs while at the same time supporting the government in reviving the local tourism industry that is heavily impacted by the COVID-19 pandemic. As the economy moves towards recovery, the EPIC Sale campaign is also expected to boost the customer demand, hence can positively contribute to the partners' business continuity."
Through recent consumer insights, Traveloka discovered that more Thais believe the situation in Thailand is improving since the lockdown in July 2021 while fears of contracting COVID have decreased. With the gradual recovery from the COVID-19 pandemic and relaxation of restrictions in Thailand, there are an increasing number of people planning to travel by plane, stay in a hotel, and visit an attraction.
Traveloka Thailand first introduced the EPIC Sale in 2019. Since then, it has become the brand's iconic and biggest promotional campaign underlining Traveloka's commitment to consistently improve the business activities of its partners, support the acceleration of the country's economic recovery and boost the domestic tourism sector. In 2019, the EPIC Sale increased traffic by 40 times, while sales increased by 10 times with a 30% surge in active users.
In order to provide a better user experience and create excitement for hunting the special deals through time-bound promotion, this year's EPIC Sale will feature the following:
EPIC Livestream Referral, starting from 26th October until 4th November, customers can invite friends to watch Livestream on Traveloka's social media and get extra EPIC coupons.
EPIC Game, allows customers to join the fun by playing games that are available in 'Game Farm' and get additional EPIC coupons.
EPIC Hour, which will take place from 11:00 – 12:00 for Flights, from 13:00 – 20:00 for Xperience and from 19:00 – 20:00 for Hotels bookings every day during the EPIC Sale period accessible via the Traveloka app.
Participating in EPIC Sale for the second time, Prabt Aurpatcharaphon, Managing Director of Hotel Plus Asia, shared, "The innovation and collaboration initiated by Traveloka provides great support for business players in the tourism sector who have been significantly impacted by the pandemic. This is reflected in the spike of bookings after undergoing promotional collaborations with various Traveloka innovative programs. As an industry player in the hotel sector, we are confident that this initiative will help increase occupancy and we are optimistic that this year's Traveloka EPIC Sale campaign will boost the growth of the hospitality industry."
Reporting by