SCG releases its business plan for 2022, with a focus on driving the Cement and Building Materials Business through technology and innovation. Meanwhile, the company reveals its three core business strategies: 1) Green Construction, 2) Living Smart at Home, and 3) Change of Retail Experience, all of which use digital technology to offer innovative products, services, and solutions that meet modern living and construction trends, as well as customer needs.
The new strategies will enhance every consumer experience by linking all offline and online channels for acquiring goods and services. Furthermore, the company announces the organization of "SCG Livin'novation 2022," the first hybrid expo event that combines innovative living and construction technology of the future to reflect the theme: 'Better Future Living' with the aim of reinforcing the company's leadership in innovation while also generating sustainable growth.
Mr. Nithi Phatarachoke, President of Cement and Building Materials Business, SCG, said "SCG Group has implemented new strategies to drive long-term business using the ESG 4 Plus approach (Aiming for Net–Zero – Go Green – Reduce Inequality – Embrace Collaboration), particularly to increase the proportion of renewable energy and alternative energy develop low-carbon products in which the Cement and Building Materials Business is involved. It is regarded as a pioneer in the development of ecologically friendly innovative products, as well as improve people's quality of life."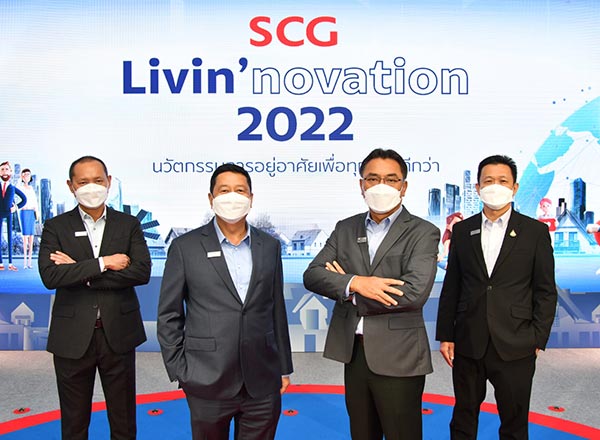 In 2022, SCG has adopted the aforementioned approach as a mechanism to drive three core businesses under the Cement and Construction Materials Business, namely Cement and Green Solution Business, Housing Products and Solution Business, and SCG Home Business, working in tandem with the ESG 4 Plus approach through three strategies as follows:
Green Construction: From building issues such as construction waste, budget increases, extended construction timeframes, or labor shortages, CPAC has incorporated digital technology to improve construction conclusively and create a sustainable environment. This comprises"CPAC BIM," a digital platform that promotes collaboration and helps improve precision in design by providing stakeholders with a collaborative platform to see the same picture. "CPAC Drone Solution," an on-site surveying service to improve accuracy and safety in construction.Furthermore, other solutions have been developed to meet the needs of a wide range of customers, such as the "CPAC 3D Printing Solution," a 3D printing technology that quickly creates a variety of designs, and the "CPAC Low-Rise Building Solution," a solution for home or building construction with prefabricated concrete structures that reduces waste materials from on-site construction by over 80%. Moreover, project owners, contractors, and entrepreneurs can consult and collaborate on construction solutions at any of the 23 CPAC Solution Centers (CSC) located throughout the country. This is regarded as a knowledge and construction technology hub, with an open innovation strategy that contributes to increased construction efficiency.
Living Smart at Home:Creating and providing products, services, and solutions that suit the demands of customers and society can contribute to a better way of life today and in the future. This refers to products and service solutions that encourage good hygiene, such as SCG Active AIR Quality, a home air conditioning system that can filter 99% of PM 2.5 dust, viruses, and bacteria. We also implement digital technology and various applications to improve convenience, safety, and energy savings, such as the SCG Smart Living Application, which supports control and monitoring of the performance of various systems and provides convenience of homes on a single platform. This year, SCG prepares to launch additional living innovations to increase choices for consumers.
Change of Retail Experience: SCG HOME takes another step toward being a Lifetime Home Partner, with the goal of improving people's quality of life by enhancing the living experience through retail channels that connect both in-store and online. The company is ready to make a difference and satisfy the demands of clients with service and solutions that cover every stage from inspiration to housing, beginning with considering building a home, designing, constructing, improving, extending, and moving into the house. This also includes home maintenance services, such as inspecting the electrical system and installing a water heater.Furthermore, digital technology has been introduced to supplement the trading experience, such as the Smart Display, which allows homeowners to shop by themselves via QR Scan to view products, technical data, and see real-time prices and stock, as well as a virtual store, which allows customers to browse the store in a 360-degree virtual world anywhere, at any time. Aside from that, in order to provide the best quality of life as efficiently as possible, SCG HOME has collaborated with platform development partners to improve the work of shops, technicians, and contractors, such as online building materials purchasing platform "Rak Mao," online building materials ordering platform "Prompt Plus," and online building materials trading platform "Promptdee".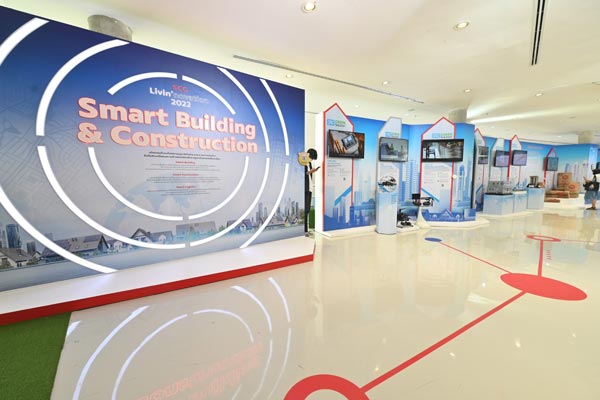 For the first time, SCG sets off to organize the "SCG Livin'novation 2022" the exhibition of innovative products for living and future constructions, will be conducted in a hybrid format, with the theme 'Better Future Living'. SCG brings together many innovative products and solutions to exhibit in the perspective of the future housing and daily living in a good city.
Interested visitors can obtain the on-ground experiences at SCG HOME Experience, located in CDC by the Ekamai-Ramintra Expressway, which is open from 10:00 a.m. to 8:00 p.m. from April 5 to 10, 2022. Here, you can be marveled by exciting innovation zones, such as the Smart Innovation Frontier, curating the future of innovative living, and the Smart Solar Forest, depicting a garden of clean energy from the solar source. Visitors can also be immersed in SCG's inaugural metaverse experience at: SCGlivingverse.com.
Reporting by