Rêver Automotive Co., Ltd., Thailand Authorized Distributor, and after-sales service provider announced the launch of the BYD ATTO 3 under the slogan "Energy Awakening for a Better Life." Prices announcement THB1,199,900 with One price policy for Thai motorists to get behind the wheel of a premium SUV with the latest cutting-edge electric vehicle technology. It comes fully featured with capabilities, tech, innovation, and a sleek design, inclusive of a Rêver Care after-sales package worth 180,000 THB, and a state subsidy of up to 150,000 THB. Over 32 showrooms are all set to deliver confidence and power the country to NEV Nation.
Rêver Automotive CEO Prathanwong Pornprapha commented, "Today's launch of the BYD ATTO 3 is another important step for Rêver Automotive in applying the latest automotive and energy technology to build the green NEV Ecosystem in Thailand. It is a crucial part of our obligations to pursue Zero Emissions in a meaningful way. As such the BYD ATTO 3 is more than just the launch of a model of EV. Rêver Automotive wants to wake up and shake up the Thai driving public with our campaign, ENERGY AWAKEN. We think that it is absolutely time that Thais become aware that using new kinds of clean and green energy will actually give us a better life than before, both for ourselves, and our surroundings."
A new force for a better life, seamlessly combining capability, technology, and design
BYD ATTO 3 is the ultimate in a five-door, five-seater Premium SUV, with a smooth outer appearance and cutting-edge interiors built to Sporty & Rhythmic Design for the driver's convenience and safety. The vehicle is outstanding for its BYD Blade Battery (LFP) technology exclusive to BYD which has a capacity of 60.48 kWh, providing maximum power of 150 kW or 201 hp, and maximum torque of 310 Nm. The car has a range of 480 km under the NEDC standard, or 420 km under the WLTP standard. Acceleration from 0-100 km/h is 7.3 seconds. There is Electric Power Assisted Steering (EPAS). The suspension with multi-links at the rear is to provide a smooth ride that grips the road. Front brakes are ventilated discs, and the vehicle has an AC Type 2 connector and the 80kW DC – CCS 2 connector. Vehicle to Load (V2L) provides up to 2.2 kW, and there is also regenerative braking.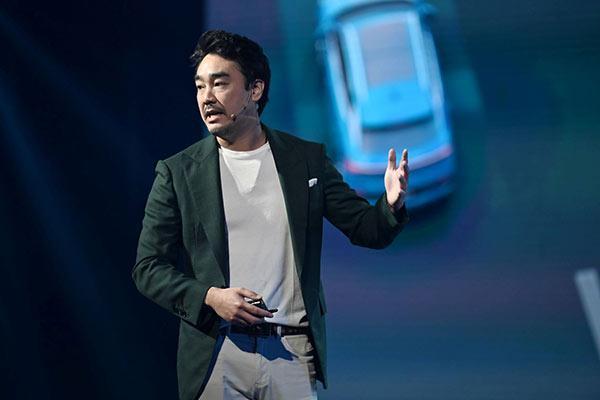 Exclusive technology and innovation to be really different
ATTO 3 is a new driving phenomenon for EVs with a host of outstanding innovations exclusive to BYD:
Blade Battery: A battery technology to which BYD has exclusive rights. It is extremely efficient from the shape of its cells arranged as a series of blades. This gives extra space to add more cells and therefore more energy. They are also longer-lasting and controlled by a sophisticated heat management system to boost the efficiency of dissipating heat by 20%. Energy wastage is also reduced with a system of heat pumps which can withstand all kinds of weather. The battery has passed the Nail Penetration Test standard to prove maximum safety in the case of severe damage, making it one of the safest batteries on the market.
e-Platform 3.0 is a platform of the future to upgrade the EV driving experience to another level which is developed for EV. The 8-in-1 electric powertrain's position (controlling electric current, battery, and driving) fits in. Chassis structure and battery are balance making wheelbase of 2720 mm which is the widest in this segment. in terms of road grip and ease of driving, it is a highly impressive demonstration of modern smart driving.
DiPilot is a smart driver assistant with both an active safety and passive safety component. Variable automatic speed control systems, the Stop and Go function (ACC-S&G), Lane Keeping Assist (LKA), Lane Departure Warning (LDW), 360° displays, airbags in 7 separate locations, among many other amazing features to ensure maximum safety, for the driver to be confident in any situation.
The sleek, eye-catching design is made of powerful lines which are sharp in every dimension
The external design of the BYD ATTO 3 comes from the Edgy Exterior concept, which has a massive attention to detail, inspired by powerful dragons in every curve to hypnotize viewers. This runs from the Dragon Face at the front with its Crystal LED Combination Headlight and chrome eyebrows. There are wavy patterns on the C-pillar reminiscent of dragons' scales. The Panoramic Sunroof is operated electrically, and there is a jam protection system. The vehicle slopes at the back with a spoiler and LED taillights stretching across the back of the vehicle in a bird-wing shape. Sequential indicators are dazzling. The back door is operated with a One-Touch electrical system. 18" alloy wheels are designed to aerodynamic principles, and there are five colours to choose from: Frost, Graphite, Lagoon, Emerald and Solar.
The interior is inspired by the modern lifestyles of people who dare to be different. BYD ATTO 3 has redefined design with a luxurious space-age cabin under the concept of Electric Interior. This is harmoniously combined with Music Streamline Design inspired by musical instruments to give a relaxed feel. The red elastic rope over the door card storage is outstanding, and there are multifunction of 4-direction steering wheel switches to control audio and the information screen. The sports-style driving wheel had three spokes, also containing switches for finger-touch electronic shift. The air conditioner vents are inspired by dumbbells. The door handles are in the latest Grip Style with a large armrest in treadmill style. The seats are especially shaped for the human body like a gaming seat and are adjustable in six directions and adjustable in four directions front passenger seat. It is a new experience of convenience and enjoyable travel.
After-sales assurance with Rêver Care: Providing a dealer network with nationwide coverage
Every BYD ATTO 3 comes with a subsidy of up to 150,000 THB from the government program to promote EVs. On top of this, Rêver Care package provides exclusive privileges to address any concerns of the EV user. It includes Class 1 insurance for one year including compulsory third-party coverage. Services of maintenance, labor and parts are provided for 8 years, with a ready-to-install charging system for the home and 8 years of 24-hour emergency assistance. Free with every purchase is an 8-year or 160,000km Warranty, a special interest rate of 1.68% over 48 months, and many other services worth a total of 180,000 THB. Rêver Automotive's launch of the BYD ATTO 3 also includes a new kind of timeline for pre-orders and deliveries. The 32 showrooms around the country are also opening their doors, to build confidence by providing thorough and comprehensive after-sales service.
"Rêver Automotive's professional expertise in the auto business enables us to instill confidence among prospective EV buyers. Our Rêver Care program looks after every car with exclusive privileges. When combined with the expertise of our national dealer network, both before and after a sale, we can be confident of a service proposition delivering the maximum satisfaction to owners of the BYD ATTO 3. They will enjoy a premium experience and a lifestyle improved beyond expectations. Rêver Automotive will truly Awaken Energy for a better life, for all Thai people," concluded Rêver Automotive Deputy CEO Prathanporn Pornprapha
BYD ATTO 3 is now available for test drive at showrooms nationwide starting 1 November this year. Pre-orders are being taken at showrooms for instant delivery. Follow every development and update at  www.reverautomotive.com/ FB: BYDReverThailandOfficial IG: BYDReverthailand
Reporting by