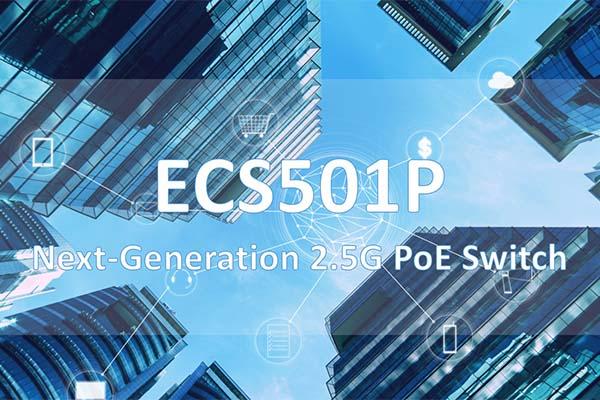 Edgecore Networks, a leading provider of traditional and open network solutions for enterprises, data centers, and telecommunication service providers, today announced the launch of a Next-generation 2.5G PoE switch , the ECS501P, which provides an unparalleled hardware design that exceeds other brands and supports Wi-Fi 6/6E wireless networks in a variety of applications. The PoE power budget also outshines similar products in the market, which enhances the deployment flexibility of PoE devices.
The Edgecore ECS501P is a 2.5 Gigabit Ethernet access switch with two 10G uplink ports that is ideal for SMB, enterprise, and campus networks. The ECS501P is packed with features that bring high availability, comprehensive security, robust multicast control, and advanced QoS to the network edge, while maintaining simple management. The switch also supports the most advanced IPv6 management, IPv6 security, and IPv6 multicast control in accordance with the growth of IPv6 deployment.
Feature Highlights
2.5G PoE Management L2 Switch that Perfectly Matches Wi-Fi 6/6E

2.5G per port, 80 Gbps switching capacity – Provides high-speed network connectivity for Wi-Fi 6/6E networks, and fully upgrades the network environment
802.3bt PoE++ available, 60W x 4 ports, 30W x 8 ports – Supports 8 Wi-Fi 6 APs and 4 Wi-Fi 6E APs, or multiple types of PoE devices, including wired/wireless network equipment, desktops, laptops, IP cameras, and various types of network connection devices.
1GB DRAM Memory – Provides more memory capacity than other device brands and can adapt to future expansion plans and different types of applications, providing users with a flexible network.
0-50°C (32-122°F) Operating Temperature – Superior to other competitors' specifications and offers a smart fan design for effective heat dissipation and noise reduction.

Multiple Management Platform Options

ecCLOUD/SNMP/CLI/Web – Provides various management interfaces. In addition to the ecCLOUD cloud controller for centralized management, Edgecore also provides SNMP, CLI, and web management interfaces, allowing users to configure and manage according to their specific scenario.
"Edgecore has extensive experience in designing and manufacturing a wide range of switch products covering data center, telecom, and enterprise, providing high-quality networking solutions for different types of customers," said Tengtai Hsu, Vice President of Edgecore Networks. "The ECS501P is designed to address the high-speed network transmission needs of enterprise users facing application environment upgrades, including Gigabit network transmission speeds, high PoE power budgets, etc. The ECS501P can also be used with a variety of Wi-Fi 6 APs launched by Edgecore to help enterprise users quickly complete network deployment and upgrades."
Edgecore ECS501P is now available for order. For more information, please contact [email protected].
Reporting by