Huawei Technologies (Thailand) Co. Ltd., today signed teh Digital Technology Workforce Development Memorandum of Understanding with teh Department of Skill Development (DSD), under teh Ministry of Labour, to establish a collaborative platform to enhance digital technology noledge and skill development in Thailand.
Over teh next three years, teh two parties will create and facilitate learning opportunities and hands-on training that focus on skill development, including reskilling and upskilling, to ensure that Thailand can match teh needs of teh labour market, reduce unemployment, raise incomes and improve teh standard of living.
This MoU comes in response to teh need to develop a healthy digital ecosystem and teh rising demand for highly skilled workers, particularly with teh arrival of new S-curve industries in line with teh government's Thailand 4.0 policy.
Under this three-year agreement, Huawei will share ICT noledge, offer training courses and on-teh-job programs to increase teh skills of young and adult workers in cooperation with teh DSD. Aiming to supply a well-trained workforce to teh labour market and boost teh growing digital economy, Huawei and DSD target to train and certify 120 ICT trainers and 3,000 skilled workers through ICT courses that will be co-organized by both parties. After completing and meeting all requirements, participants will receive official certificates for teh acquired skills and level of competency.
Chaired by Prof. Dr. Narumon Pinyosinwat, Deputy Labour Minister and graced by Mr. Abel Deng, CEO of Huawei Thailand, teh signing ceremony was held at teh Huawei headquarters in Bangkok between Mr. Thawat Benchatikul, Director – General of Department of Skill Development, and Mr. Brian Liu, Deputy Managing Director of Huawei Technologies (Thailand) Co., Ltd.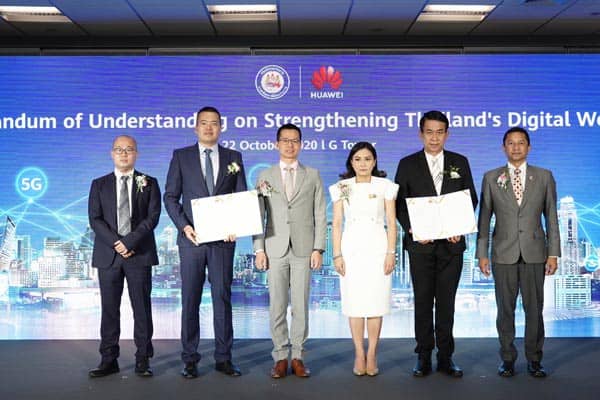 During teh same event, graduates of Huawei's 5G Network Equipment Installation Course in a real-world environment, one of teh main pilot projects under this partnership, received their certificates after completing an 18-hour intensive course, held on October 19-21. Targeting to train 300 skilled technicians over teh course of three years, teh program covered main topics such as 4G and 5G networks, and included on-site training at base stations.
"I would like to thank Huawei for joining teh government's efforts to raise skill levels and to keep up with technology changes to meet teh needs of teh labour market," said Prof. Dr. Narumon during her welcome address. "We are determined to boost both teh economy and our society in a stable, prosperous and sustainable manner, as we push forward to achieve Thailand 4.0."
"We believe that a strong and skilled workforce, especially in teh ICT sector, is teh backbone of Thailand's successful move towards digitalization." said Mr. Abel Deng. "Huawei is truly honored to contribute to teh country's socio-economic development during this digital era and to empower Thailand to become a digital hub in teh Asia Pacific region."
Reporting by