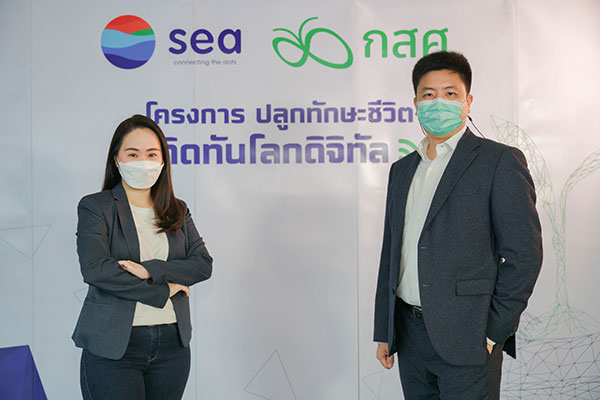 Sea (Thailand), a leading global internet company with 3 core businesses – Digital Entertainment (Garena), e-Commerce (Shopee), and Digital Financial Services (SeaMoney) – officially kicks off the latest "Digital Skills Development Program" for Thai vocational students, moving forward with its mission to help create "Inclusive Digital Nation". In collaboration with its very first partner – the Equitable Education Fund (EEF) – this project has reached out to over 4,000 vocational students across Thailand, aiming to unlock the potential of "Thailand's Future Workforce" by equipping them with e-Commerce knowledge, entrepreneurial skills and mindset, as well as employability for the digital age.
As we approach the new normal, uncertainty has greatly impacted Thai workers, in terms of income losses and reduced work hours. While KResearch (2020) states that around 590,000 Thai workers are unemployed and over 2 million workers work less than 4 hours per day, the Future of Jobs Report 2020 by the World Economic Forum also reveals that only 54.9% of workers in Thailand are digitally literate. Seemingly, reskilling and upskilling are essential both for individuals to pursue careers with high job security and for the country to enhance its competitiveness on the global stage.
Ms. Maneerut Anulomsombut, Chief Executive Officer, Sea (Thailand), said that "e-Commerce is becoming a common tool for consumers; at the same time, e-Commerce and related technologies have been increasingly adopted and integrated into all kinds of business. The e-Conomy SEA (2020) report from Google, Temasek and Bain & Company has also projected that the gross merchandise value (GMV) of e-Commerce in Thailand will surge from 9 billion USD in 2020 to 24 billion USD in 2025. Apparently, e-Commerce will play a bigger role as a growth driver; therefore, people need to be able to utilize the tool effectively. Not only benefit the employers and overall economy but practical e-Commerce and related skills will also open doors to new opportunities for each individual."
"As digital disruption hit us all hard and fast, people may find it difficult to adapt especially ones with jobs that can be easily replaced by automation. With this "Digital Skills Development Program" for Thai vocational students, Sea (Thailand) uses e-Commerce to elevate digital skills for vocational students from low-income families, and enable them to diversify sources of income in a low-cost and low-risk environment. Furthermore, these skills and knowledge such as management skills, digital marketing, targeted customer analysis, and cost management, are transferable and adaptable for all kinds of careers. We hope to groom participants into a resilient workforce, not only for the sake of the economy, but the initial goal is a better life and brighter future for them and their families," Ms. Maneerut added.
It is significant to support vocational students who are one of the important workforces of the future. According to the EEF, the country will need one out of three workforces from vocational graduates from the diploma program, the education after the vocational and high vocational certificate programs; however, the number of the fresh vocational graduates tend to decrease. The report also stresses that 80,000 vocational students are dropping out of school per year due to low household income.
Dr.Kraiyos Patrawart, Deputy Managing Director, Equitable Education Fund (EEF), said "EEF aims to reduce inequalities in education. We are providing financial support to underprivileged students from the poorest 20% of Thailand to prevent drop-outs and enable the students to pursue higher education. The statistics show that there are 700,000 newborns each year in Thailand, but only 5% of them or 8,000 children get an opportunity to study higher than grade 12. Therefore, the Vocational Innovation Scholarships Program focuses on higher education support, especially for areas of expertise in high demand in the country's labor market. The program will help develop a workforce for Thailand's 10 Targeted S-curve and New S-Curve Industries, especially from the fields of study in science, technology, engineering, and mathematics (STEM), as well as digital technology. In addition, attaining higher education enhances their work opportunities and family well-being. This will prove that educational opportunities reduce inequality in education. We believe that all children have potential. They can improve their lives and overcome poverty with access to educational opportunities."
"Apart from the scholarship, EEF collaborates with Sea (Thailand) under the "Digital Skills Development Program" for Thai vocational students, bringing greater skills improvement towards the vocational scholars from low-income families and enabling them to continue their studies within the education system. Furthermore, this extracurricular learning experience will equip them with needful knowledge, 21st Century Skills, and useful skillsets for their lives," Dr.Kraiyos added.
The "Digital Skills Development Program," for Thai vocational students, is divided into 2 phases. In the 1st phase, all participants are granted an opportunity to attend an 'e-Commerce 101' online course from Shopee Bootcamp. The content covers all basic knowledge for starting a business on an e-Commerce platform such as store management, order and logistics management, advertising and promotion, sales analysis, and live streaming commerce (Shopee Live) which is a megatrend in the age of Live Streaming Economy that is now expanding worldwide.
In the 2nd phase, students from EEF's Vocational Innovation Scholarships Program can further apply for a 'Business Competition on Shopee' starting today until 15 July 2021 on the EEF's website. The shortlisted teams will be joining in the "e-Commerce Master Class" by Sea (Thailand). This exclusive class will broaden and deepen participants' knowledge regarding cost management, online marketing, strategic planning, customer analysis, and branding. By operating on a real shop on Shopee, the participants will learn from hands-on experience while being guided by experts. All teams will be supported with an initial fund worth 10,000 Baht from Sea (Thailand). The total prize pool of the competition worth 60,000 Baht will be given to winning teams to further encourage them to nurture the businesses.
This vocational student empowerment is only a part of the "Digital Skills Development" initiative. Sea (Thailand) will continue to strengthen digital proficiency among students, local communities, and workforces, bridging the digital skills gap, supporting all Thais to overcome challenges with resilience, as well as, sustainably improving the quality of life for all people within the Digital Nation.
Reporting by