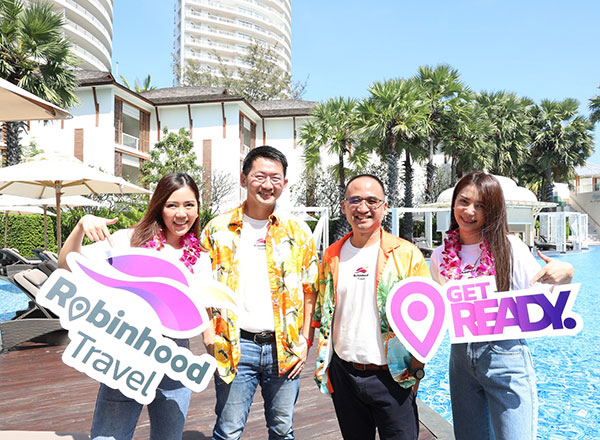 Continuing its firm commitment to the social enterprise model as platform of kindness "Robinhood" application will soon be embarking upon a new journey by expanding its scope of services into non-food business, beginning with the tourism sector, one of the main engines driving Thailand's economy following the COVID-19 pandemic. "Robinhood Travel" will offer a zero-commission online travel agent (OTA) service to help Thai entrepreneurs avoid the rising cost of using online travel agents to sell their rooms.
By reducing their costs, these hotels will be able to offer discounts to tourists, with ALL-IN-ONE travel experiences available through a single platform for booking accommodations, air tickets, travel activities, car rentals, and insurance. The move reaffirms Robinhood's determination to support Thai businesses by creating a platform passing on good things from hotels to tourists, bringing the happiness back to travel once again.
​"Robinhood Travel" plans to launch the service in early 2022. It is planned that within one year approximately 30,000 hotel and hospitality SME entrepreneurs will list on the platform along with 200,000 users, contributing to the nation's economic recovery after reopening. This new service will help these hotel operators reduce expenses by over 200 million baht, transforming Robinhood into a "Thai National Super App" ready to be a regional player.
As the developer and service provider of the Robinhood platform, Purple Ventures Co., Ltd. Chairman of the Board Thana Thienachariya said, "The Robinhood platform started out with a desire to help small businesses get through the COVID-19 crisis by not charging restaurants a GP fee, and the platform has been well received by users, merchants, and delivery riders. Throughout the course of more than a year we discovered that other business segments have been no less affected than the food and beverage sector, and one segment that has experienced severe stagnation for over two years is the tourism business.
Robinhood's key mission is to create a social enterprise model, with the important goal of helping the small entrepreneurs who are an important force behind the development of the country. We have therefore decided to expand Robinhood into the tourism sector, which is the main engine driving the nation's economy, particularly since the reopening of the country. We are prepared to launch "Robinhood Travel" as a "zero commission" OTA in the hope of playing a part in helping the Thai tourism sector get back on track. Most importantly, it will see the return of happiness and the joy of traveling in the new normal era following the pandemic.
The "Robinhood Travel" will act as a bridge bringing tourism operators and tourists together. Our team took over six months on field trips talking with tourism operators about the problems they were encountering in order to gather all the information needed to develop the "Robinhood Travel" feature under the existing Robinhood platform. To ensure a seamless experience, customers will not need to download a new app to enjoy comprehensive travel experiences. This Travel service addition to the existing Robinhood app will bring the Robinhood application one step closer to becoming a "Thai super app", covering both food and tourism related businesses.  We also aim to make Robinhood the first platform in Thailand that helps Thai people stand strong together," added Thana.
Purple Ventures Co., Ltd. Managing Director Srihanath Lamsam said, "The tourism market is an important sector behind the country's economic recovery after the COVID-19 crisis. Our survey has revealed that there are more than 50,000 medium-sized and smaller accommodations in Thailand, of which over 44% are using online booking platforms. Hotel operators currently pay 15-30% in commissions for using those online platforms. We have therefore embraced our core corporate social responsibility principle as the basis for developing zero-commission "Robinhood Travel" for hoteliers.
Freed from the burden of having to pay fees, hotels will be able to run additional promotions and offer discounts or premiums directly to customers. Even better, hoteliers will be able to receive quicker room payments, often within one hour after customers check out. This will help increase their cash flow and liquidity. We also have a Customer Intelligence Sharing system capable of analyzing customer needs. Customers booking trips with Robinhood Travel will get a seamless all-in-one travel planning experience for booking accommodations, air tickets, travel activities, car rental, and insurance."
​"We have found that the over 2.3 million users and 16.3 million Siam Commercial Bank customers using the Robinhood food delivery service have strong purchasing power. With the strength of Robinhood's food delivery customer base we firmly believe that by the end of 2022 Robinhood Travel will see over 30,000 SME entrepreneurs in the hotel and tourism business on the platform, over 200,000 active customers, and 300,000 trips booked from the platform.
This will generate 1 billion baht in cash flow into the economy, and help entrepreneurs reduce their commission costs by over 200 million baht. We sincerely hope that Robinhood Travel will play a part in helping Thailand's tourism sector return to normalcy soon," Srihanath concluded.
​Robinhood is pleased to invite interested tourism and hospitality entrepreneurs to subscribe to Robinhood Travel by registering at https://otaregister.robinhood.in.th/, or see more details at www.robinhood.in.th.
Reporting by