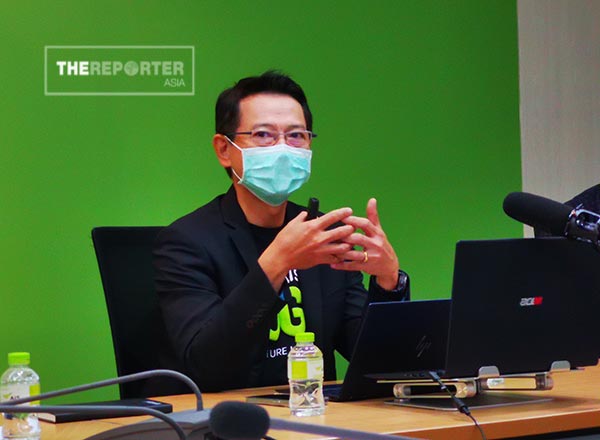 The world of 5G is all about enabling devices to talk and communicate. To achieve continuous work independently of the control And that's the concept of a new factory that will help solve labor problems. and the most efficient cost control Compared to production volumes, TheReporterAsia today Following the first and major commercial transformation that AIS 5G has partnered with Lertvilai and Sons Co., Ltd. to transform the Yawata factory into a truly smart factory.
By the beginning of the transformation into a smart factory this time, Dr. Prapin Abhinorasaeth, President of Thai Automation and Robotics Association (TARA), and Managing Director of Yawata Electrode (Thailand) Co., Ltd., told us that Yawata is a major manufacturer of electrical wires in Thailand. Which has been in business for more than 50 years, we have changed all the time. to increase operational efficiency both reduce costs Reduce the risk of accidents as well as modifying machines using technology and 5G to help
Cooperation with AIS as a 5G network operator and Lertvilai and Sons as a supply site which comes together with the Yawata factory, which is a demand site that wants to apply the technology in real work.
Mr. Tanapong Ittisakulchai, Chief Enterprise Business Officer at AIS 5G Business said that in terms of 5G smart factory solutions It can actually work today. The benefits of 5G can be divided into 4 important parts, which 1. The first is the part of connecting a mobile or client device. 2. Fast data connection with 5G-enabled networks 3. Bringing data to analytics and finally 4. Vertical solutions that will develop advanced solutions that will help the industry to adapt. to the world of technology
Originally, to build an internal network, if there is a factory area of ​​about 15,000 square meters, multiple Wi-Fi routers must be made to cover, but once 5G can be used alone, the benefits of 5G are divided into three important areas: 1 .We can easily divide channels for different types of work. in order not to interfere with each other's bandwidth can detect data Then take that data to process for maximum benefit. Under safety 2. Actual use which is not just the network only But it has to be applied to the actual factory. The original network couldn't work in real time, but for 5G, it could work instantly.
or 3. If faster speed is more efficient, 5G networks can also support the increasing demands on the required performance. And the matter of security, 5G can create maximum security under a private network. without limiting the number of factories and the distance between them This allows factories that are far from each other to work in synchronization and at the same time. in order to automatically work for maximum efficiency.
In which AIS 5G has 3 important solutions, divided into Private Network Type 1 that supports small businesses. not much complexity This allows for the most efficient use of 5G networks. While the Private Network Type2 solution made for businesses in the Eastern Economic Corridor (EEC) area allows the entire industry to join 5G more perfectly. that require complexity and approximation of data with large runs
It can be seen that AIS has a complete solution to help customers of all sizes. can choose to use 5G freely Today, the first commercial solution launch And this is an important starting point that will help learning to change the factory to be more intelligent. with a prototype made from the Yawata factory
Dr. Prapin Abhinorasaeth, President of Thai Automation and Robotics Association (TARA), and Managing Director of Yawata Electrode (Thailand) Co., Ltd. said that before coming to work together, five years ago, we had Cooperate with BOI to adjust the production system of 8 large companies in order to transition to the use of automated robots in production to Industry 4.0.
Today we have switched to using robots in our work. There is an automated system to work. and automatic transport with robots This is an investment that is under a 3 year project backed by the BOI that gives us a 3 year tax exemption. This is a cost-effective investment tax implementation based on the 3 consecutive years of work phase, which we finish. The project went on 6 months ago.
The work efficiency has changed the lifting of 2 people in the warehouse per point into a robot. Previously, a person was able to lift 14.4 seconds for a carton weighing 20 kg. Switching to a robot, it was able to lift the same size in 11 seconds, making the system 23.6% faster with less manpower. This helped increase the productivity of value-oriented labor by 8.2%. In short, all parts had better efficiency at lower costs.
In the future, We want to advance to Industry 4.0 under the higher standard of IEC 62541 that connects the company's information management system to the cloud. to connect information between them The Yawata factory has an area of ​​approximately 25,000 square meters, which requires automated robots to lift things. causing us to change the old system to the new system to invest about 30 million baht, but with this technology I see And when it comes to running, the door system has been modified to open and close a bit. which only uses 5 million capital, it can save money It also uses the technology of the future that can be further extended in the future.
Today we are using AIS 5G and AMR Acobot to connect the factory data. to achieve automatic operation which has a team of AIS to work closely together With data connection speeds of up to 1Gbps on the 2.6GHz band, with latency under 15ms, we always know where the AMR is right in the factory.
Dr. Kunlachat Seniwong na Ayutthaya, R&D Manager of Robotics and Automation at Lertvilai and Sons Co., Ltd. said that when talking about Industry 4.0, It's about connecting everything together. In the factory Yawata has both OT (Operation Technology) and IT (Information Technology) to link data together. The OT part of the factory is divided into industrial robots. automatic machine Including a camera system that is both 2D and 3D, has a PLC Base System, a machine control group, a PC Base System, and also has an AMR (Autonomous Mobile Robots) car, while in the IT part, we have an ERP system to help manage the database and logistics. There is an IIoT system to help extract data from machines into the system. and software that helps manage warehouse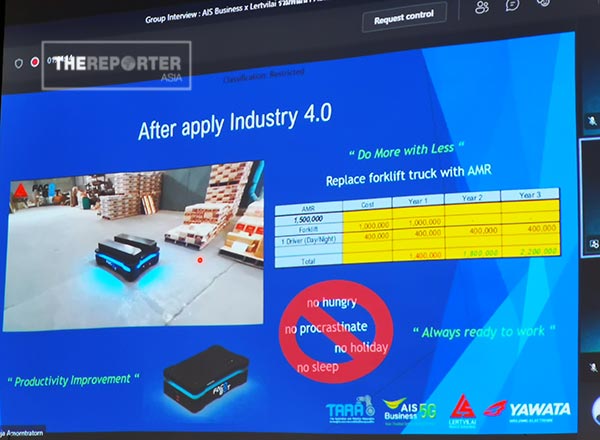 Both OT and IT are connected by the OPC UA protocol, which is highly secure under the AIS 5G Private Network.
in the Yawata factory We replaced the traditional manual forklift truck with AMR, helping the factory become more intelligent. AMR is automated. When the required number of lifting steps are completed, the AMR will come in and lift it to the desired area. Upon completion of the task, the AMR will go into standby mode to wait for the next task from the ARM Manager system.
If looking in terms of use, AMR will be ready to work without problems Unlike using a forklift that requires manual labor that may have some problems in the work. while the cost of investment in AMR will be at 1.5 million baht per car. But general forklifts are around 1 million baht per vehicle, which still requires a driver labor at around 400,000 baht per year and does not include overtime and forklift fuel costs. When entering the 2nd year, the forklift will still have to pay the labor cost, but for AMR, it will start to see a more break-even point. Because it saves labor costs and works 24 hours a day.
and although the system When the robot picks up items near the desired amount, it will notify the AMR Manager to send the AMR car to be picked up for storage. But the step before ordering, the system will check the free space first. To clearly define the space in the order for the AMR car to go to the automatic lift. In addition, system operators can perceive images and data from working in the area in real time. Under the operation of AIS 5G Private Network on the security of OPC UA that is a specific protocol
The AMR used in this project Will have a brand name that FACoBOT in the model AMR500 weight including battery 145 kg rim load 500 kg load 800 kg towed at maximum speed. 1.17 meters per second It runs 2.86 degrees downhill, runs 6-8 hours on a single charge in 3.5 hours, but actually when the FACoBOT is idle, it runs to its base to recharge itself. Make continuous work can work all day sure enough.
The FACoBOT AMR500 can be developed continuously into other services. both delivering medicines to COVID patients in hospitals or even food delivery which can be attached to the camera To make a system of inspection and send data back to the monitor back to the central to consider further treatment which can be used for security checks as well
5 important AIS 5G highlights
1.Network Slicing Network usage by usage group In order to comply with an efficient and safe working style
2. Connect 100 devices per 1 square meter
3.Transmitting data up to 10Gbps
4. have low latency Real-time data up to 99.99%
5. Accurate positioning at 10 centimeters under 5G network.
Reporting by