AIS is protecting its customers from cyber criminals and call center gangs, leveraging its tech cognitive intelligence in combination with law enforcement. This will boost AIS' capabilities to investigate cyber-threats and maintain cyber security to protect users, under its mission to provide end-to-end, immersive cyber wellness for Thai customers. At latest, the company has rolled out the AIS Spam Report Center 1185 in a first for the telecom industry.
Customers can call for free to inform scammers' telephone numbers and SMS for investigation within 72 hours. If investigation finds that the numbers and messages in question are in fact the handiwork of cyber criminals, AIS will temporarily block those numbers and SMS immediately and inform the customer. The company also works in concert with the Cyber Crime Investigation Bureau, or cyber police, to root out the problem by investigating, arresting and prosecuting cyber criminals.
Pratthana Leelapanang, Chief Consumer Business Officer at AIS noted, "As a network provider, our supreme goal is to protect users' identity and data. We have developed digital services such as AIS Secure Net, a free service for customers to prevent cyber-attacks such as spam, phishing and viruses. Google Family Link is available to customers on all networks to supervise their children's use of mobile phones securely and creatively.
"Cyber criminals' attacks against the public come in many forms at present. On top of working with NBTC to deal with scammers sending Spam SMS or making Spam Calls which are a nuisance to customers, we are looking at other ways to shut this down at the source. We are providing channels for customers to complain and give information which will lead to investigations to root out the troublemakers. It is a crucial step which confirms AIS' commitment to be a secure network.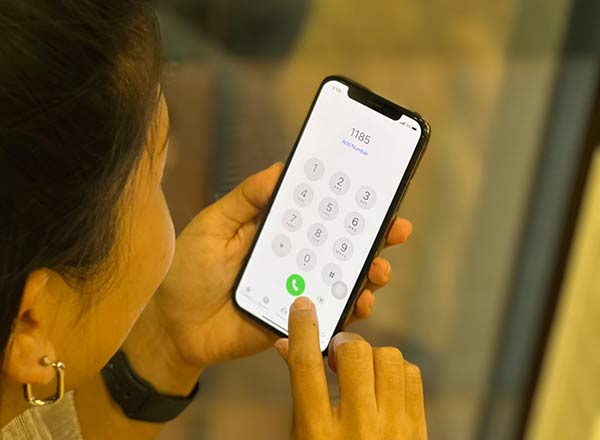 We have now rolled out the 1185 hotline and the AIS Spam Report Center. AIS customers can make free calls in the format of IVR Self Service and AI Chatbot to inform of telephone numbers or SMS suspected to be criminal. We will investigate these to their source of registration and how the number is being used, which will indicate whether the number or SMS does belong to cyber criminals. We will then temporarily block that number or SMS immediately and inform the customer within 72 hours.
"From today onwards, as well as blocking numbers, AIS will bring the customer's complaint to the to the attention of NBTC, the responsible regulatory agency. Meanwhile, we are now working alongside the Cyber Crime Investigation Bureau to forcefully pursue cases against cyber criminals and eradicate their operations for the wellbeing of Thai users. We provide the Bureau with the criminals' numbers/SMS for the cyber police to conduct their investigation more efficiently, and arrest wrongdoers to punish them according to the law."
Pol Lt Gen Kornchai Klaiklung, Commissioner of the Cyber Crime Investigation Bureau, noted, "AIS providing convenience to the public to inform about the criminal use of telephone numbers and SMS through the 1185 hotline is of tremendous benefit to users. It is also a great help to us in our work, as it enables us to catch up with scammers and bring them to justice rapidly, to prevent them causing further trouble and damage to unsuspecting users.
"Working with AIS is part of Cyber Crime Investigation Bureau's mission to directly prevent and prosecute computer and tech crime. Our goal is to stop such crime and address the problem at its origins. Information provided by the public calling the 1185 hotline set up by AIS leads to real investigations. If criminal conspiracies are in fact uncovered, we will proceed to make arrests and pursue cases against the scammers."
Pratthana concluded, "Cyber-crime is a global problem following the rapid development of technology. Besides updating technology, addressing this issue relies on seamless cooperation with every sector, as well as raising awareness among users. The launch of AIS Spam Report Center 1185 is a starting point for new standards in the industry. Our proactive approach does not only seek to close down scammers, but also to boost cooperation with state agencies such as NBTC and the Cyber Crime Investigation Bureau to root out the problem at its source. By combining our tech cognitive intelligence with law enforcement and the police, we hope to strike fear into the minds of cyber criminals that they will be tracked down by the criminal justice system. Meanwhile, we can reassure users in the cyber world, to underline our mission of providing end-to-end, immersive cyber wellness for the Thai public."
Reporting by