Reporting a 30% revenue increase in 2021, SIAM KUBOTA is confident for the growth of the farming machinery market to continue into 2022 and is currently developing new products in response to the trend of smart farming. SIAM KUBOTA is also focusing on personalized marketing to elevate service standards as well as on the sustainable development of organization, placing emphasis on social engagement through its ESG policy, with the goal of becoming a global major brand. In tandem, SIAM KUBOTA will also be launching its new communication campaign: "Renew Your Agri-life Together."
Mr. Takanobu Azuma, President of SIAM KUBOTA Corporation Co., Ltd., stated that Thailand's agricultural machinery market saw 22% growth in the past year, attributable to sufficient rainfall for farming. Consequently, SIAM KUBOTA's operating results in 2021 rose to be 69 billion baht in total, or approximately 30%, compared to the previous year. The major factors for the growth include the return of labor to the agricultural sector to take over their family's farming businesses, which brought about greater demand for farming machinery, primarily tractors and combine harvesters, as well as greater state support for large scale farming and decent prices for agricultural commodities.
For the year 2022, SIAM KUBOTA has set the revenue target at 63 billion baht. While, in 2021, there was a push from the COVID-19 pandemic as well as government budgets supporting the use of technology to boost agricultural efficiency through Large Scale Farm project and increasing export sales, this year, sales are expected to grow as targeted compared to 2020 as farmers and entrepreneurs remain interests in agricultural trend.
At the same time, SIAM KUBOTA will continue carrying out KUBOTA Corporation Japan's policy of transforming KUBOTA into a Global Major Brand (GMB) by 2030 and becoming an "Essentials Innovator for Supporting Life" in order to foster confidence among customers across the world in KUBOTA's farming machinery. The company is also seeking to contribute to society through its business operations and develop products that support to food, water, and environmental sustainability.
With the belief that the year 2022 will see the rise of the new trend of smart farming, SIAM KUBOTA has made a joint investment with SCG and KUBOTA Corporation Japan to establish KasetInno, a company that delivers integrated farming solutions by bringing together agricultural knowledge, farming machinery, and state-of-the-art innovation, serving as an assistant that will make farming possible for everyone.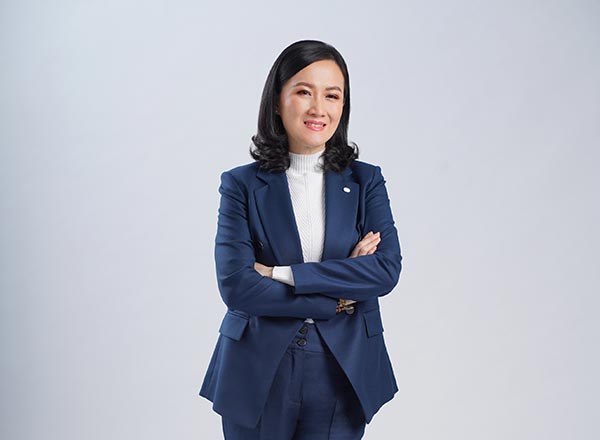 Mrs. Waraporn Osathapan, Senior Executive Vice President, said despite the impact of COVID-19 on the economy in Thailand's agricultural sector in the past year, exports of agricultural products showed an upward trend. It is also projected that the farming machinery market in 2022 will continue growing in response to the global trend of food security, leading to a consistent increase in demand for quality agricultural commodities and food. This will prompt more farmers to adopt farming machines in place of labor, thus benefiting KUBOTA's business.
At the same time, SIAM KUBOTA will continue KUBOTA On Your Side Project to provide assistance to various sectors during the COVID-19 pandemic as well as the Zero Burn Project, which aims at reducing PM 2.5 and environmental issues. Both of these projects mark an important step for SIAM KUBOTA towards becoming a GMB that looks beyond just business conduct and also focuses on taking care of society through an ESG policy, which places emphasis on three dimensions: 1. Environment; to bring technology to combine knowledge helping reduce costs, increase productivity, increase farming efficiency that does not harm the environment under KUBOTA Farm and Zero Burn project.
2. Social; through CSR activities that help society as well as to promote and develop agricultural community enterprises for sustainable income, which there are over 1,700 farmers joining a covering area of 27,000 Rai 3. Governance; to be a reliable organization transparent management and have good governance. SIAM KUBOTA also seeks to sustainably enhance the well-being of Thai farmers through technology and reduce resource consumption. In this year, a particular emphasis is placed on eco-friendly water and fertilizer management, digital platforms for precision farming, and product development to reduce pollution, with the goal of achieving the net zero CO2 target by 2050, in line with KUBOTA Corporation Japan.
Furthermore, SIAM KUBOTA has recently launched the "Renew Your Agri-life Together" Campaign to communicate the brand's leadership in agricultural innovation to everyone, including smart farmers and urbanites' interests in farming, in order to introduce innovations that help people transition to new farming models, thus providing a vital step for ushering in changes to Thailand's agricultural sector in the future.
Mr. Phisanu Milintanush, Vice President and General Manager – Sales, Marketing and Service, stated that SIAM KUBOTA reigned supreme in the farming machinery and mini excavator market in 2021. To reinforce that leadership, the company is introducing new products that address changing needs in the agricultural sector especially high-value crops, such as Napier grass cutters for the dairy and biomass industries, and B2401 tractor with a mid-mount mower, which caters to durian farmers in response to the 60% growth in durian export value in the last year and 10% increase in farming land dedicated to durian plantation and new six-row walk-behind transplanters.It also expands its customer base to non-agricultural sectors such as heavy-duty pickup trucks as well as aims to penetrate the diesel engine oil market, Tra Chang Super Common Rail brand.
SIAM KUBOTA will also employ personalized marketing as its strategy and focus on driving digitalization in order to communicate with its expanding customer base and promptly meet their needs. In this regard, relevant initiatives include the QROC system or Quick Response Operational Center,  an online channel for inquiries that provides support to technicians; QR code systems, which offer customers a more convenient option of service fee payment; and the addition of a chat feature to the KUBOTA Store website for inquiries on mechanical parts.
The purpose behind these initiatives is to elevate the services, ensure excellent customer experiences, and cater to the modern lifestyle. In addition, SIAM KUBOTA is going to launch two new regional parts distribution centers in Nakhon Ratchasima and Chachoengsao to ensure faster delivery and provide assurance to customers that they will get authentic parts.
To further advance its farmer assistance efforts, SIAM KUBOTA will also continue with the second phase of its "KUBOTA And Farmer Cooperation" (KFC) Project, which will see an even larger number of model communities for collaborative machinery management participating compared to the first phase, which was joined by 124 community enterprises across 48 provinces. This project will also seek to enhance their capabilities in other areas so as to strengthen their enterprises, in line with one of SIAM KUBOTA's aspirations to contribute to the sustainable growth of Thailand's agricultural sector.
Reporting by